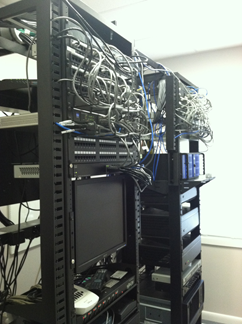 We are a Microsoft Certified complete network solution provider. We provide service on any existing network or can design a new network infrastructure.
Computer Network Services:
Install, troubleshoot, and configure routers, switches, WiFi access points, and other network components
Install battery BackUPs to protect your valuable equipment
Configure site-to-site VPN connections for remote office locations
Maintain network security with Netshield hardware appliance or software based Firewalls
We support all current versions of Microsoft Windows Servers, Hyper-V Virtualization, Redhat and CentOS Linux, SCO Unix, all versions of Microsoft workstation operating systems and all Microsoft Office products.
Call for rates and details
(888) 698-0875