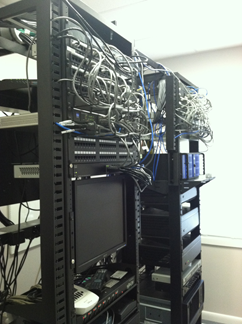 We are a Microsoft Certified complete network solution provider. We provide service on any existing network or can design a new network infrastructure for new or old construction.
Computer Network Services:
Rack Installation
Cabling, patch panel, and wall plate installation
Install, troubleshoot, and configure routers, switches, WiFi access points, and other network components
Install battery BackUPs and power conditioners to protect your valuable equipment
Configure site-to-site VPN connections for remote office locations
Maintain network security with hardware or software based Firewalls
We support Microsoft Windows 2016 Servers, Microsoft Windows 2012 Servers, Microsoft Windows 2008 Servers, Microsoft Windows 2003 Servers, Hyper-V Virtualization, Redhat and CentOS Linux, SCO Unix, all versions of Microsoft workstation operating systems and all Microsoft Office products.
Call for rates and details
(888) 698-0875