Manufacturing & Beyond
Streamline your business with our robust manufacturing system designed from the ground up for the bedding industry.
Manufacturing and Beyond is a complete manufacturing solution, designed by bedding manufacturers with today's bedding industry in mind. It starts with a configuration tool that allows the designer to build a recipe (model) and then explode the bill of materials into separate inventory items for each bed size.
As customers request these items, the orders are added to a daily schedule which drives the production process. Bar-coded media is produced for each serialized piece to help track it through the operations on the manufacturing floor. Detailed information about the status of orders and individual items can be viewed at any time during the production process. On the manufacturing floor, a .NET-powered browser-based solution provides clear instructions to employees as they scan each piece through the production operations. This full-screen graphical interface also enforces FR lot number collection and includes pictures, multi-lingual prompts, and a running total of the day's pay for piecework employees.
Completed pieces are bagged and scanned onto trucks using this same web interface, and employees can be paid piecework rates for these operations as well. Once a truck is loaded, the process comes full-circle back to the billing department as orders are finalized and paperwork generated for the entire load in one combined process.
Key Areas
Models
Create and explode models into different sizes, experiment with costs before comitting changes, and multi-level Bill of Materials support for reporting and global changes.
Scheduling
Schedule by order number, route and more, automatically create Loads and Delivery Schedules, and flexible last-minute order changes.
Manufacturing
Time-clock control, automatic piecework split pay, and integrated Lot Tracking.
Shipping
Create Loads on-the-fly, one-button bill of lading and invoice generation, and short shipments easily resolved to backorders, stock, or cancel.
Models
Design one model; Build-a-bed automatically explodes it to unlimited sizes.
Multi-level Bill of Materials with reports, global changes, etc.
Piecework labor can be integrated into cost calculations.
View and experiment with costs for all sizes before committing changes.
Each serial number created includes complete, costed bill of materials.
Changing models for future releases won't disrupt production in-progress.
Inventory can be relieved for each component "on-time" as used in production.
Use Weight factors to automatically calculate material percentages of raw materials on the law tag.
Piecework rates will automatically feed into Manufacturing (Shop Floor).
Audit Reports to identify potential issues before posting models to production.
Scheduling
Many ways to schedule orders (by order number, by route, by ship-to state, etc.).
Automatically create Loads and Delivery Schedules during the scheduling process.
Ability to print all media (law tags, control tickets) with the stroke of a key.
Inquiry screens allow snapshot of where products are on the shop floor.
View quantities and percentages needed, done, and loaded for each run, order, and line item.
Daily totals broken down by item type, complete with production stats per hour.
Flexible inquiry filter allows each user to view production data per individual needs.
View pieces by Production Run, Order, or Item—filtered any way you like.
View details for each piece: operation statuses, lot numbers, employees, etc.
Tightly integrated with Orders, order changes provide immediate feedback to production.
Flexible; last-minute order changes can be applied to the schedule on-the-fly.
Historic daily production schedules retained for easy viewing.
Manufacturing
.NET-based web application; many stations share one license.
Full-screen, interactive interface leads employees through the scanning process.
Running balance of piecework pay and pieces produced.
Piecework automatically fed into Payroll module, with flexible controls by employee.
Teams can share an operation with piecework pay automatically split.
Time-clock control allows in/out hours to be set for each department, shift, and date.
Integrated intelligent time clock tracks hours, with incentive for correct clocking in/out.
Integrated FR Lot tracking.
Pictures of operations and products being produced.
Multi Lingual (English – Spanish).
Piecework, Bagging, and Shipping all from one web interface.
Shipping
Create loads on-the-fly using the Shop Floor Control Web Application.
One-Button bill of lading and invoice generation for any number of orders.
Shipped quantities on order updated as serial numbers scanned to truck.
Short shipments easily resolved to backorders, stock or cancel.
Historical load information, Bills of Lading can be reprinted.
Easy sequencing of orders on each load.
Delivery schedule in load sequence order, with contact info. and comments.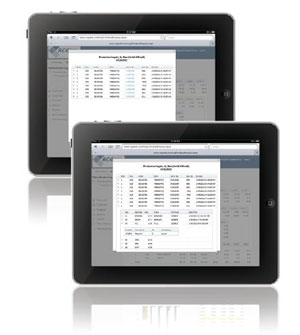 We also provide browser based production inquiry functions. For example, the factory supervisor can walk the shop floor using a tablet device (such as an iPad) and determine what may be holding up order completion. Each serial number shows the last operation scanned, so a given piece can be tracked through each stage of production. Date and time for all operations for each serial number may be viewed, as well as a list of employees who performed each operation. If subassembly production is required, the status of subassemblies can also be viewed from this screen.